Anatomy of heart-
Four chambers
1.Rt.atrium
2.Rt.ventricle
3.Lt.atrium
4.Lt.ventricle
Two great arteries-
1.Aorta
2.Pulmonary arteries
Pericardium.
1.Parietal
2.Visceral
Chambers are as following-
Right  atrium :
Chamber receives systemic venous drainage through SVC and IVC
Coronary venous drainage through coronary sinus
Important characteristics for identification:
Limbus for fossa ovalis
Wide based blunt ended
Right sided atrial appendage
Eustachian valve at the orificed IVC
Thebasian valve at orifice of coronary sinus
Crista terminalis with separates trabeculated and non trabeculated portion of atrium
Left atrium :
Cardiac chamber receives pulmonary drainage from four pulmonary veins
Septal surface having flap valve of the fossa ovalis
Left atrial appendage is long and narrow
No  crista terminalis at base of left atrial appendage .
Right ventricle :
Right ventricle has sinus portion –surrounds tricuspid valve ,apex and infundibulum or outlet portion which support semilunar valve.
Inlet and outlet valves of right ventricle are widely separated
Sinus and infundibular portion is coarsely trabeculated
Septalsurface of riht ventricle divided into
Inlet
Trabecular
Outlet portion
Alternatively
Posterior (basal)
Middle
Apical
Infundibular
Outlet portion is smooth and have 3 components largest is conal (infundibular) which separates pulmonary from aortic and tricuspid valves .
Laterally to right infundibular (canal) septum imperceptibly merges with the free right ventricular wall immediately beyond its attachments to the membranous septum (parietal extension)of infundibular septum.
Infundibular septum +parietal band ➔ crista superventricularis
Medially conal septum between septal band called trabecula septomarginalis
Septal band extends apically to become continuos with the moderate band a prominent trabeculation running from the septum to free wall
Junction between outlet and sinus portion is clearly demarcated at lower margin of outlet portion of septum.
Incomplete muscular ridge formed by outlet septum and parietal band together with septal and moderator band forms a natural line of division between posterior inferior sinus portion and anterior superior outlet portion of ventricle
Thin area VSD occur
Junctional or ventricular area
Papillary muscle arrangements supporting the three leaflets of tricuspid valve is different from mitral valve
In tricuspid valve in addition to a single large anterior papillary muscle attached to anterior free wall that fuses with the moderator band.
Multiple smaller posterior papillary muscles attached partly to septum and  gradient of small septal papillary msuscle.
Lower most septal muscle attach to septal band uppermost (canal) papillary muscle (muscle of lancisi or muscle of luska) to posterior limb of septalband.
Left ventricle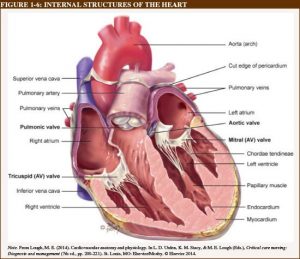 Sinus portion supports MV and include apex and much small outlet (outflow) beneath aortic valve
The inlet and outlet valves of left ventricle lie juxtaposed with its base and inflow and outflow portions are separated by anterior  or mitral leaflet
Entire free wall of left ventricle and apical half to two third of septum are trabeculated [ fine trabeculations.]
Sinus portion of septum beneath mitral valve may be termed inlet septum and rest of sinus portion trabecular septum.
In patient right side only septal leaflet of tricuspid valve attached to septum , on left side rightward half of AML attach septum posteriorly and right part of non coronary cusp attch to it anteriorly
Leftward half of anterior mitral leaflet is in fibrous continueity with the aortic valve in an area termed the mitral annulus.
Anteriorly placed right ventricular infundibular septum lies opposite the aortic valve. It may occasionally be displaced into the left ventricular outflow beneath the cardiac valve.
Myocardium: architechture of ventricles:
3 walls
Superficial
Middle
Deep – sub endocardial
Middle layer only presentin left ventricle
Superficialand deep layers are anchored at ventricular orifices to fibrous structures of central fibrous skeleton of the heart. This suggests that myocardial contraction plays an active role in cardiac valve function
Middle layer made up of circumferential pattern
No planes of fibrous septation are present in three layers
With advancing age muscle fibers arrangement progresses from horizontal to oblique orientation
This change is evident in right ventricle and probably reflects changing pressure gradient between right and left ventricle
Great arteries:
Aorta
Pulmonary artery
Ventricular septum:
Higher pressure in left ventricle marks sinus septal surface concave on left and convex on right , left ventricular outflow tract angulated to right.
Membranous septum :in fibrous part of cardiac septum separating left ventricular outflow tract from in part right ventricular and in part left atrium.
Atrioventricular septum : lies between right atrium and left ventricle.
AV node lies in atrial septum adjacent to junction between membranous and muscular portions of atrioventricular septum and bundle of His passes toward the right trigone between these two compartments.
Conduction systems:
Sinus node
Intermodal conduction
Atrio ventricular junction – AV node
Intraventricular conduction system
Left bundle of His

Anterior fascicle
Posterior fascicle

Right bundle of His
Purkinje fibers
SA Node:
Sindle shaped structure composed of highly specialized cells located in right atrial sulcus terminalis lateral to junction of SVC and RA
Three cells: nodal , transitional , and atril.
Synchronous initiation of impulses from all cells and pacing.
3 distinct regions responsive to seprate gradient of neural and circulating stimuli . inter relationship of these 3 regions appears to determine ultimate rate of output of SAN.
Arterial supply: RCA -60% or LCX
Nerve : post ganglionic adrenergic and cholinergic nerve terminalis.
Internodal: tracts are formed by geometry of RA parallel arrangement of myocardial cells in bundles crista terminalis and limbus of fossa ovalis – account for preferential interval conduction.
AV Node: group of discrete specialized cells morphologically distinct from working myocardium and divided into a transitional cellzone , compact portion and penetrating AV bundle (Bundle of His) . compact portion of  AV Node is located superficially anterior to the ostium of coronary sinus above the insertion of septal leaflet of longitudinal portion of compact AV Node penetrate central fibrous body and becomes the Bundle of His
AV junction is with in the triangle of Koch bounded by Tendon of Todaro , TV annulus and ostium of coronary sinus.
Bundle of His at superficial margin of muscular interventricular septum emits broad bundles on left side . Left  bundle extends downwards and divides small anterior and large posterior fascicle
Right bundle originates as final continuation of bundle of His travelling sub endocardially on right side of interventricular septum towards the apex of right ventricle
Distal branches convert to  purkinje fibers.
Bloodsupply from – RCA -85%
LCX-15%.
Bundle of His –supplied by  branch from anterior and posterior descending artery.
Neuronal actions-applied importance  during surgeries.
Right vagus stimulation – SA node _ bradycardia
Left vagus stimulation – prolongation of AV node
Right stellate gandlion stimulation – tachycardia
Left stellate ganglion stimulation – shift in pacemaker to SAN to an ectopic node .
dr.ajita
---